With St. Patrick's Day coming up this week, we are going to do a week on Ireland this week. I'm excited for the kids to explore their Irish heritage (they are half-Irish)!
These are our plans:
Geography:
Map of Ireland - label major cities and landmarks, and also family origins of paternal grandparents
History & Culture:
Try out recipes - including Irish soda bread
Creative Project:
Lapbook - We will use some of this free lapbook
Reading
Selections from this Book list for kids, including traditional Irish folk tales and historical fiction.
Language Arts: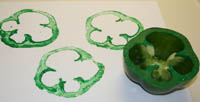 Additional Resources:

I'll post our actual reading selections and the final lapbook on our Weekly Wrap-up at the end of the week!